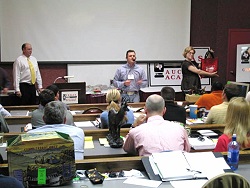 "The February graduating class did a fantastic job!" exclaimed Mike Jones, Director of the America's Auction Academy in Dallas, when asked about the latest in-class charity auction that raised over $10,000 for St. Jude Children's Hospital in Memphis, Scottish Rite Children's Hospital in Dallas and the NAA Auxiliary in Overland Park, Kansas.
Thirty-two students sold a variety of auction items including an exotic hunt, winter fishing trip in Minnesota, America's Auction Academy merchandise, NAA Auxiliary prints and items donated by the hospitals and instructors.
When the final numbers were added up, Scottish Rite received $4956.25, St. Jude received $4033.75 and the NAA Auxiliary received $1,010 for sales of it's "Unsung Heroes" prints.
Two very special moments took place, as the class dedicated $1675 to Scottish Rite Children's Hospital in the name of Instructor, Rocky Strickland who barely survived a near fatal heart attack the week before auction school started and who took his first out of hospital trip to visit the students as they were preparing to graduate.
The class also presented School Administrator Lori Jones with a special gift in acknowledgment of her hard work and dedication.
Since 1993, the school has help raise tens of thousands of dollars by conducting the in-class auctions to help children, support the auction industry and to demonstrate to it's graduates the satisfaction and duty of giving back to the community.
Students attending the February class represented eight states including Texas, Colorado, Nebraska, Oklahoma, Minnesota, Nevada, Kansas and Louisiana.