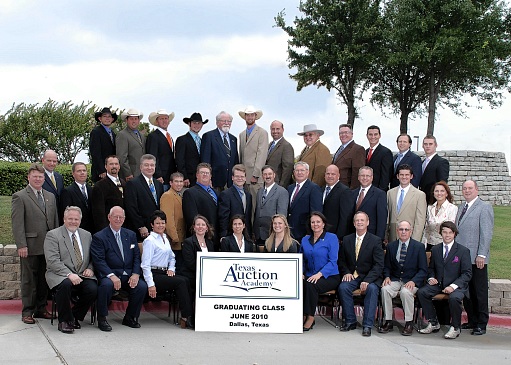 During the nine day course, students learned about basic auctioneering skills including the chant, bookkeeping, state and government regulations, advertising, marketing, public speaking, ethics, professionalism and other important auction related classes. State approved professional auctioneers and instructors taught classes related to their auction specialties including real estate, automobiles, industrial assets, commercial sales, equipment, business liquidations, bankruptcy, government auctions, livestock and farm and ranch auctions and other industry specific auctions.
For the first time ever, a America's Auction Academy class was invited to attend and participate at the annual Texas Auctioneers Association convention being held at the Hilton Hotel in Arlington. The students conducted a short fun auction during dinner prior to the TAA champion competitions and annual fun auction. During their event, the students raised $1,900 for Texas Scottish Rite Hospital. The event was exciting for both the students and the attendees. Cajun comedian Murray Conque from Carencrow, Louisiana, a former auction school graduate, kicked the evening off by mixing it up with the audience and entertaining the packed room prior to the student event.
The class concluded with a fundraising auction to benefit Texas Scottish Rite Hospital, St. Jude Children's Hospital and the National Auctioneers Association Auxiliary Scholarship Fund. The class total was $8,627 with the highlight of the auction being the sale of a America's Auction Academy ball cap to student Amy Lester who paid an impressive $1,500. Ms. Lester's husband Tom who attended the March session of the school was named 2010 Texas Rookie Champion Auctioneer and placed Second Runner-Up in the 2010 Texas Ringman Champion competition. School Representative Montie Davis took First Runner-Up in the Champion Ringman competition as well.
The America's Auction Academy was established in 1992 to offer Professional Auctioneer and Ringman training. The school conducts four sessions per year. The school has trained students from throughout the United States, China, New Zealand, Canada and other countries. To learn more about the America's Auction Academy or to enroll, go to www.texasauctionacademy.com or call 972-387-4200. The Owners and Instructors of the America's Auction Academy are proud members of the National Auctioneers Association and their respected state associations.