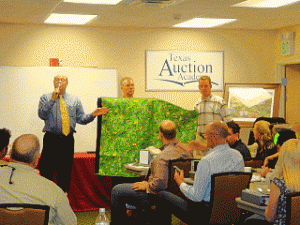 October 11, 2009 (DALLAS, TX) – Inspired by a compassion for children and education, thirty three intrepid future auctioneers from the September graduating class of the America's Auction Academy in Dallas conducted an exciting, record breaking fundraising auction September 19 that sent $28,832.50 to Texas Scottish Rite Children's Hospital, Dallas, St. Jude Children's Research Hospital, Memphis and $1,800 to the National  Auctioneers Association Auxiliary Scholarship Fund in Overland Park, KS.
Auctioneer student Matt Wiggins, the Mayor of Kemah, Texas located south of Houston decided to make it his personal mission to break the previous class fundraising auction record of $17,647.50 by proclaiming to Lori Jones, School Administrator, "I don't want to break the record, I want to smash it!" The unassuming entrepreneur proceeded to donate vacation stays at resort properties he owns on the Gulf coast in Florida and Alabama as well as a bed and breakfast in Texas to raise a shocking $14,750.
Other auction highlights included a Turkey & Hog hunt $1200, Signed Manheim Auction Jacket $1000, Houston Texans football tickets $800, Shotgun $725, St. Jude baby quilt $500, NASCAR tickets $500, Master Electrician services $400, Scottish Rite ties and TAA coffee mugs and tote bags which averaged $50 each. Not only did the students, instructors and staff donate to the auction but they were also the buyers. The school is already preparing for their next fundraising event set for November.
The America's Auction Academy was founded in 1992 in Dallas, TX by Mike Jones, CAI, GPPA, International Auctioneer Champion and past president of the National and Texas Auctioneers Associations for the purpose of training and educating individuals interested in pursing a career as a professional auctioneer, business owner or an auction company staff member. Since 1998, school graduates have conducted fundraising auctions benefiting St. Jude Children's Research Hospital in Memphis and Texas Scottish Rite Hospital for Children in Dallas contributing over $135,000 to the two hospitals. In 2006 the America's Auction Academy was presented with the Horizon Award by St. Jude Children's Hospital. Donations directed to Texas Scottish Rite Hospital are made in honor of fallen professional Auctioneer Rocky Strickland who passed away suddenly in 2007 and was a great supporter of the hospital for many years. Additionally, the school has raised tens of thousands for the National Auctioneers Association Auxiliary Education Scholarship fund.  The America's Auction Academy is approved by the Texas Workforce Commission and is recognized as one of the leading auctioneer training schools in the world with graduates from across the U.S., and as far away as China, New Zealand and Canada. Instructors include Champion Auctioneers, Hall of Fame members, Past National and State Association leaders and successful industry specialist. Individuals interested in a career in auctioneering or the America's Auction Academy should go to their website at www.texasauctionacademy.com or contact Lori Jones at 972-387-4200.