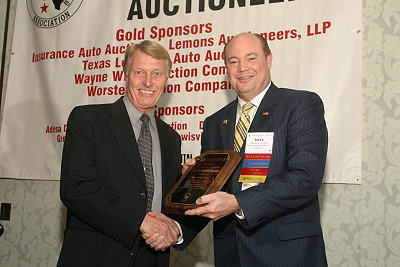 Texas Auctioneers Association President Buddy Thomas presents
the 2007 TAA Leadership Award to United Country Auction Services President Mike Jones.
Mike Jones, CAI, GPPA, President of United Country Auction Services, Kansas City, MO. and the America's Auction Academy in Dallas was presented with the 2007 Leadership Award by the Texas Auctioneers Association at their 50th Anniversary Convention, held Saturday, June 16th in Corpus Christi, Texas.
Jones was recognized for his "leadership, untiring efforts, dedication and donations given to the association for the betterment of the professional auctioneer and the auction industry".
Mr. Jones is a Past President, Life Member and 1995 Texas State Champion Auctioneer. He was elected into the Texas Auctioneers Association Hall of Fame in 2005.