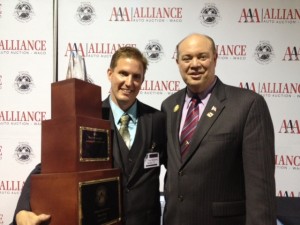 The 2013 World Automobile Auctioneers Championship was held at Alliance Auto Auction in Waco Texas April 5, 2013. Contestants numbered 89 total in 3 divisions ( 48 auctioneers, 25 ring people, 16 teams).
-Trey Gallaway of Belton, Texas was named 2013 World Automobile Champion Auctioneer. He received $5000 prize money, a beautiful 3 tier championship trophy & champion's diamond ring
– Bradley O'Leary, was named the 2013 World Automobile Champion Ringman. He received $2500 prize money and championship trophy
– Bill Zobel (Auctioneer) & Christine Strobietto (Ringwoman) won the 2013 World Automobile Auctioneer Team Championship. They received $5000 prize money and championship trophy each.
– Championship Judges included Mike Jones Pres. of America's Auction Academy and United Country Auction Services, JJ Dower, Pres. National Auctioneers Assn, ADESA Pres. Tom Caruso, Manheim Pres. Sandy Schwartz, ServNet Pres. R. Charles Nichols, Manheim Dallas Gen. Mgr. Barry Roop, National Auto Auction Assn. Pres. Elect Jack Neshe, Angela Crooke America's Auto Auction Exec., 1998 World Champion Kevin McGolthlen, BB&T Executive VP Keith Vegors, Exeter Finance Mike Bohannon & Mid America Pres. Ron Christianson.
– The Championship was dedicated to 1994 World Champion Automobile Auctioneer Gene Radcliffe, considered the finest auto auctioneer of his era. Gene was honored for his lifetime of service to the auto auction industry and auctioneer profession. He has sold over 9400 auctions and flown 4.5 million miles in his career.
Texas Auctioneers Assn. provided bottled water for all contestants and attendees. It was much appreciated by everyone.
– WAAC President Paul C. Behr states " The competition this year was as fierce & close as ever. The finest auto auctioneers and ring people brought their best and it showed"
Each contestant, former champions and judges were presented with a United States double eagle silver coin made of .999 pure silver commemorating this year's WAAC 25th Silver Anniversary. Over 112,000 viewers tuned in on waacnet.net and niada.com to watch the championship.