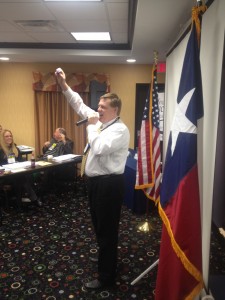 Student Doug Turnau of San Antonio sells his TAA class coins for $500 and adds a $1000 dollar cash donation to St. Jude Children's Hospital and TX Scottish Rite Children's Hospital during the Feb 2013 TAA Class Fun Auction.
The February graduating class of the America's Auction Academy did something few believed possible. Thirty nine students from across the United States raised $32,493 for a group of charities including St. Jude Children's Hospital, Texas Scottish Rite Children's Hospital, National Auctioneers Association Auxiliary and Fellowship of Christian Auctioneers International during their class fun auction held Friday, February 15th near Dallas.
The previous school benefit auction record of $30,632.50 was set by the September 2009 class and included many bed and breakfast and condo stays donated by school graduate Matt Wiggins of Kemah, Texas. At the time, Wiggins said, "I want to set a record that can never be broken".
According to a class spokesman, they had no thoughts about going for the record, but after they realized they were within $2000, they decided to make it happen. Not only did they break the record, they blew past it raising an additional $1866 for four great charities. "Our school strongly promotes giving back to the community and this incredible group really took it to heart and oh my, what a blessing to our charities" said school owner Mike Jones.
The altruistic group not only donated the items sold but also purchased them as well. Additional items were donated by the schools owners and instructors of America's Auction Academy and the organizations benefiting from the auction.
Auction highlights included two original cast autographed Storage Wars Texas posters donated by the show's auctioneer and TAA graduate Walt Cade that fetched $2800, Wine basket w dinner at III Forks $1500, Herman Miller Aeron Chair $700, a Hill Country Golf package and Auction flag autographed by the class both sold for $500 each.
The February class found unique ways to increase their gross auction sale by purchasing a St. Jude backpack and donating it back six times bringing in almost $700 and auctioning off coins given by instructors during the class for great questions or ideas that brought in an additional $1970. Classmate Milton Daily who produces a television hunting show agreed to produce a video of the class and the proceeds from his idea brought in another $1365.
The class also purchased prints of a painting by Artist Joani C. Mangold that celebrates auctioneers and the auctioneering way of life entitled "Unsung Heroes" that brought in $4625 benefiting the National Auctioneers Auxiliary Educational Scholarship program. "I am simply in awe of this group, this is the most we have ever raised for scholarships in one school auction" exclaimed a jubilant Lori Jones, School Administrator and NAA Auxiliary board member. The Fellowship of Christian Auctioneers International will also receive $1125 from the event. The benefit fun auction is one of the highlights of the nine day school.
###
The America's Auction Academy is a nationally recognized auctioneer training school established in 1992. The school is owned and operated by auction industry leaders, champion auctioneers and Hall of Fame members. The nine day school is Texas Workforce Commission Approved with classes limited to forty students. Students learn about all types of auctions including real estate, automobiles, livestock, commercial liquidations, benefit auctions and technology, salesmanship and the auctioneers chant. The school is accepting enrollments for the June and November classes now. The America's Auction Academy has many strategic alliances including United Country Real Estate. To enroll today or learn more, go to www.texasauctionacademy.com or email the TAA Administrator Lori Jones at info@texasauctionacademy.com
The America's Auction Academy is a proud supporter of the National and Texas Auctioneers Associations, the National Auctioneers Foundation and the NAA Auxiliary.
###