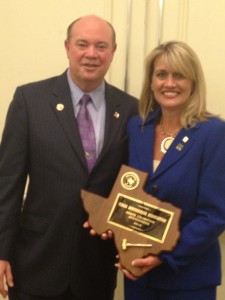 FORT WORTH, TX – A new Texas State Champion Auctioneer was crowned June 29th in Fort Worth ironically on Championship Parkway across from Texas Motor Speedway. Wendy Lambert of Coppell, Texas earned a coveted spot on the roster of champion auctioneers as she was named the 2013 Texas State Champion Auctioneer at the 57th Annual Texas Auctioneers Association (TAA) Convention held at the Marriott Hotel and Golf Club at Champions Circle.
Lambert, a native of Fort Worth has been involved in the auction industry for over 20 years and operates a division of Lambert Auction Company specializing in benefit and fund-raising auctions and holds the Benefit Auction Specialist (BAS) designation from the National Auctioneers Association (NAA). Wendy comes from an auction family, her husband Doak won the title in 1989, coincidentally, also in Fort Worth. She will compete again later this month at the International Auctioneers Championship (IAC) held in conjunction with the NAA Conference & Show, July 19th in Indianapolis. Lambert took second runner at the 2010 IAC event.
"Admired and respected by her peers, Wendy's positive attitude, engaging personality, and knowledge of the auction industry will represent the TAA well" says Mike Jones, owner and President of the America's Auction Academy in Dallas where Wendy attended auctioneering school. Adding, "we are very proud, but not surprised at Wendy's accomplishment and consider her a real asset to the auction community". When asked about her win, she said, "It feels like I have been given the highest compliment, ever, by my peers. That, I will always carry in my heart."
Other TAA contest winners included Montie Davis, Keller, TX, Texas State Champion Ringman, Kyle Dykes, Killeen, TX, Texas State Rookie Champion Auctioneer and Ernie Croucher, Richmond, TX, Texas State Senior Champion Auctioneer.