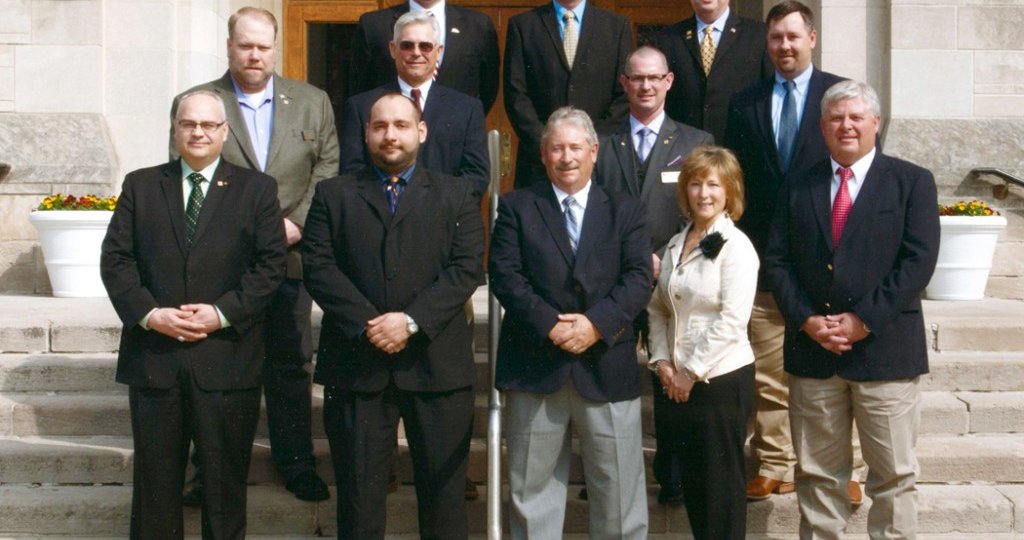 America's Auction Academy Instructors and Graduates attend Certified Auctioneers Institute – CAI Next Program, March 18-21 at Indiana University in Bloomington, Indiana. Photo Caption: Front Row (Left to Right), Shawn Terrel, MO, Phillip Gableman, NY, Jim Graves, TN. Second Row (Far Right) Tom Patterson, TX. Third Row (L to R) Jason Wallingford, IL, (Far Right) Mike Jones, TX. Not pictured, Michael Rogers, NC.
April 2, 2012 (DALLAS, Tx.) – Several graduates of the America's Auction Academy and auctioneers who practice their trade under the United Country Real Estate flag attended the National Auctioneers Association's Certified Auctioneers Institute (CAI) Next course. The program took place at Indiana University in Bloomington, Ind., from March 18 through 20.
"This year's CAI: Next program provided auction professionals the opportunity to evaluate their strengths as business leaders, their company's areas of opportunities to meet the growing demand for their services, and how to enhance their competitive advantages in the marketplace," said Michael R. Avery, director of education for the National Auctioneers Association. "Additionally, CAI: Next participants enjoyed several networking opportunities with each other and participants of CAI I, II and III."
The lead instructor for the program was Professor Ann Bastianelli, senior lecturer of Marketing for the Kelley School of Business at Indiana University. Throughout her career, she has been part of creating many successful marketing campaigns, including Kellogg's Raisin Bran's 2 Scoops of Raisins, The Talking Parkay Margarine tub, Leggo My Eggo Waffles, McDonald's Happy Meals and Dow Bathroom Cleaner's Scrubbing Bubbles. For the past ten years, Bastianelli has taught Marketing at Indiana University's Kelley School of Business, which is currently ranked among the top ten business schools in the country.
"After thirty three years in the auction profession and a 1993 Graduate of the Certified Auctioneers Institute, I have never been so impressed with a continuing education program," said Mike Jones, president of America's Auction Academy and United Country Auction Services. "The curriculum is outstanding and the instructors are the cream of the crop."
This is only the second time this advanced course has been offered to CAI-certified auctioneers, and it offered attendees unique graduate-level materials that are customized differently each time the program is offered.
"CAI: Next is a very special program exclusively for CAI graduates," said Avery. "Every time it is offered, the program will be created from scratch as the last two have been. So, if you miss it, it will never be offered again. The NAA Education Institute Trustees envision holding this class every five-year anniversary of the course. It is the intention of the trustees to hold the next CAI: Next in 2016 at the CAI 40th anniversary."
"I cannot imagine anyone who is truly serious about a career in the auction or real estate auction profession passing on the opportunity to attend these classes," said Jones. "That is why some of the world's most accomplished auctioneers come together each year to Indiana University. By not attending, you are cheating yourself and your clients out of invaluable industry insight. You can bet I am planning on being at future CAI: Next programs when they are offered again and I will whole heartedly encourage all of America's Auction Academy graduates and United Country auctioneers to attend as well."
About Certified Auctioneers Institute (CAI)
Established in 1975, the Certified Auctioneer Institute is the most revered professional designation an Auctioneer can acquire. Commonly referred to as CAI, the program focuses on developing the skills required to operate a successful auction firm and business.
CAI designees pride themselves on being a part of an extraordinary network of professional Auctioneers who possess the knowledge and skills needed to provide their clients with outstanding services. The CAI designation communicates to attorneys, trust officers, government officials, accountants and others affiliated with the auction industry that the CAI Auctioneer is committed to continuing education and is dedicated to professionalism and excellence in the auction profession.
About United Country
United Country Real Estate is the largest fully integrated network of conventional and auction real estate professionals in the United States. Based in Kansas City, Mo., the company has been an innovator in real estate marketing since 1925. United Country supports nearly 550 offices across the U.S., Costa Rica, Panama and Mexico, with a unique, comprehensive marketing program that includes one of the largest portfolios of property marketing websites (more than 3,000 separate sites with aggregate traffic of approximately 3 million visitors per month), multiple proprietary real estate catalogs with a cumulative distribution of 1.5 million readers, an extensive, current buyer database and national advertising of properties that reaches more than 90 million homes per week. United Country has recently been recognized by AllBusiness.com, The Land Report, Entrepreneur and The Wall Street Journal as one of the top U.S. real estate companies.