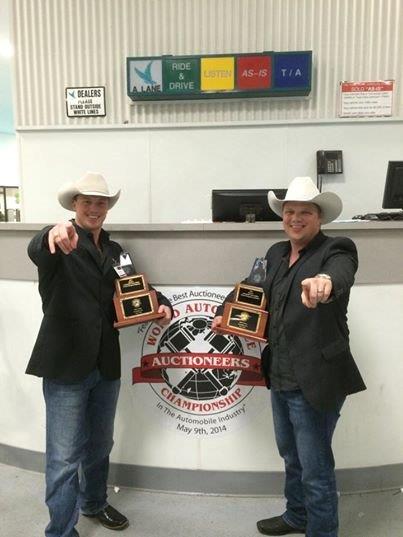 Heath Hale (left), July 2003 TAA Graduate and brother Seth, June 2006 TAA Graduate showing off their Reserve Team Champion hardware at Adesa Auctions of Boston, May 9, 2014.
Heath and Seth Hale, America's Auction Academy Graduates Win Honors in Boston
"GOD IS SOO GOOD!!! My brother and best friend Seth Hale (June 2006 TAA Graduate) and I are honored to be named the 2014 World Automobile  Auctioneer Championship – Reserve World Champion Auctioneer Team! WOW! This is amazing. Thank you to my beautiful wife for your support and my dad who got us started when we were toddlers. THESE TROPHIES ARE HEADED TO TEXAS!!"  Heath Hale – July 2003 America's Auction Academy Graduate.
The Ownership and Instructors at the America's Auction Academy congratulate Heath and Seth Hale on their recent accomplishment. Both are great young men and outstanding graduate representatives of our auctioneer training school.