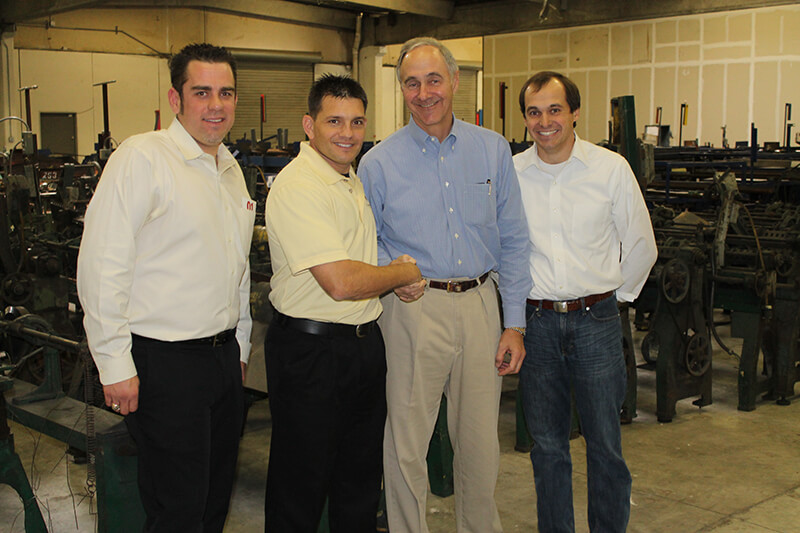 (L to R) Matthew Bagzis, Spirit of Texas Bank, Rick Grassi, R. Grassi Auctions, Milton Magnus, Buyer and Owner of M & B Hangers, M. Magnus, Mr. Magnus' son.
Dear Mr. Jones,
After graduating from America's Auction Academy in June of this year, I started R. Grassi Auctions. Within a few months following graduation, my company has been steady. We have been trying to find our "thing" as we experienced Estate Auctions and Business Liquidations. On Monday, December 16, 2013, our company auctioned one of the largest Wire Hanger Companies in the United States, Eagle Hangers, Inc. (FF& E). Although there were a few obstacles preceding the sale, it was a great success. I was able to get $525,000 for the company in less than 2 minutes. This was almost $200,000 more than the bank expected, minimizing their loss to almost nothing.
You were very helpful in your immediate reply regarding questions that I had pertaining to legal issues that came up. In the end, it all worked out. Thanks for your continuous support to your students.
It's funny, I used the knowledge and license obtained from a $1500 auction course that took me 10 days to acquire and in six months paid off my $40,000 in college loans that took 6 years to acquire. Really???
Take Care,
Rick Grassi
Houston, TX
June 2013 America's Auction Academy Graduate